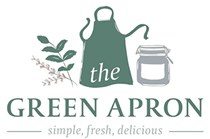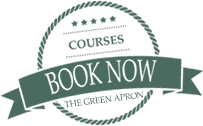 "Nothing will benefit health and increase the chance for survival on earth as the evolution to a vegetarian diet" – Albert Einstein
The aim of this one-day Vegetarian Cookery Class is to expand participants repertoire of vegetarian dishes. We'll cook with a wide selection of seasonal vegetables many of which come straight from The Green Apron's kitchen garden.
Whether due to concerns about the environment, health, animal welfare or world hunger many people are trying to give up or reduce the amount of meat in their diet.
There are currently approximately 3 million vegetarians in the UK. Whilst this number has stayed relatively stable over the last 10 years there has been a dramatic growth in the number of "meat reducers", people who are consciously trying to include less meat and more vegetables in their diet.
This one-day vegetarian cookery class is suitable for;
– Long-term vegetarians looking for new ideas
– People who are new to a vegetarian diet and looking for inspiration
– Those who are simply keen to include more meat free meals in their diet
– Anyone who loves their vegetables and is interesting in finding new ways to enjoy them
There is so much delicious food based around vegetables, spices, nuts, grains that vegetarian food needs to lose nothing over meat dishes in terms of flavour, textures and interest.
On this one-day course we'll cook together a number of seasonal vegetarian dishes using a variety of techniques and skills to showcase how simple, diverse and delicious vegetarian food can be.
What the course includes
The Vegetarian cookery course includes a whole day cooking. Some dishes you'll prepare on an individual basis, some in pairs, some as a group and some as a demo. All ingredient are provides as well as an apron for you to take home, a recipe folder, a 3 course lunch with wine and a few dishes to take home.
What you'll need
Please bring with you a Tupperware container and a cool bag. Everything else will be provided.
Itinerary List
1.
10am | Welcome with tea/coffee and a piece of cake
2.
10.30am to 12.45pm | Cooking time
3.
12.45pm to 1pm | A break to enjoy some of the delights you've prepared
4.
1pm to 2.30-3pm | Cooking time
5.
3pm | Sit down and enjoy some lunch